Thursday, January 19, 2012 at 05:18PM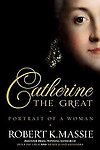 The best biographies capture the essence of the life of the subject and a feel for the times in which the subject lived.
Some biographies are excellent at one or the other but fail to do both. For example, a few years back, I found a biography of James Polk excellent for explaining the Mexican War, Westward expansion, the Northwest settlement with Great Britain, and other important aspects about an exciting time in American history.
However, I came away feeling cheated about the human being who was James Polk.
As expected, Robert Massie's new biography of Catherine the Great, the German petty princess who as Empress of Russia rose to become perhaps the most powerful human being on the planet, succeeds to a great extent on both fronts.
However, while Massie's previous biography of Peter the Great was outstanding in every sense of the word, I found too many quibbles with this biography of Catherine to rate it in the very top tier.
The first half, dealing with the young girl and woman who was carted off by her ambitious mother to Russia and found herself trapped in a loveless marriage with future tsar Peter III, is truly outstanding, but Massie somehow comes up just short on the second half dealing with Catherine's long and magnificent reign.
Of course, it could be that I read the sections in different environments, the first half over New Years Weekend in cafes and restaurants and hotels in a snowy and sleety Montreal, the second half back at home in Manchester.
I literally could not put the book down while I was in Montreal. That's how fascinating the personal story of Catherine was. For the second half, I actually had to force myself to continue reading, perhaps because I knew much of the history of this period and wasn't entirely confident with what Mackie was saying.
For example, he pooh-poohs the notion of Potemkin villages, those phony constructions which have come to signify unreal accomplishments. Massie basically claims there were few, if any, Potemkin villages. He sites the presence of Joseph II, Austria's monarch at the time, on Catherine's voyage to naysay the existence of such "villages".
I am not convinced.
Massie also, while detailing the dozen lovers who became Catherine's "favorites", is mum about legendary stories of Catherine's proclivities with living beings of another species. I recall vividly how my Russian history professor in college gleefully told of Catherine's bedtime encounters with various animals, and the professor seemed to place a larger animal in the bed every time he related the story.
Certainly, Massie must have heard of such stories. At least, he could have mentioned how he believes there is no truth to them.
Massie also seems to get sidetracked in irrelevant details; he spends five pages on John Paul Jones's life in Catherine's court, an intriguing story but far less essential to the story of Catherine than would be…for example…a report on her third child who was taken from her at birth. Massie virtually ignores this child, and while he does justice to the machinations of the Romanov line of succession prior to Catherine, he doesn't do justice to those who came after here, her son Paul I who was replaced by his son Alexander a few years after Catherine's death.
Massie seems fair in passing judgement that while Catherine was not responsible for the death of her overthrown husband, she very well could have known something bad would happen to Peter when she left him in the care of the brother of her lover Gregory Orlov. (Peter was either deliberately killed by Orlov or died in a scuffle--Massie covers the story very well indeed).
Massie is excellent at explaining the hypocrisy of the term "enlightened despot", a title Catherine shared with Joseph II and Frederick II of Prussia. He goes into great detail about Catherine's relationship with Voltaire, Diderot, and other philosophes yet points out that her rule was less enlightened than her thought process.
The author nails the spirit of the Pugachev revolt and how it helped convince Catherine that Russia was not yet ready for freedoms, for setting serfs free from the land for example (that task would be left to Alexander II in the 1860s).
Although he spends many pages on Catherine's relationship with Potemkin, it's somewhat less than satisfying.
However, those are mere quibbles. This is a very good biography; apparently others have found it great because it's been on the New York Times best seller list so long that Barnes and Nobles had it marked down 40 percent and unlike most books, I actually bought this one.
Maybe I should have stayed in Montreal an extra day and finished it there; maybe it was the climate of that city which caused me so much joy with the first half of the book. One never knows how much one's environment affects how one reacts to a book.
To jog my memory, I googled Catherine and bestiality and here's what I came up with, something Massie never mentions, not at all. Even though it's probably not true, he probably should have quashed this very well traveled rumor. Oh well, a mere quibble of a fine book indeed, highly recommended.
Catherine the Great: Anatomy of a Rumor
The salaciousness of a rumor often helps it survive—take Catherine the Great and how she is remembered.
By
Jennifer Drapkin
, published on November 01, 2005 - last reviewed on December 28, 2011
If you haven't heard the story about Catherine the Great, then clearly you never passed notes in history class. The rumor is that the lusty czarina was crushed to death while trying to make love to a stallion. Of course, it's completely false: Catherine died from a stroke in her bed at the age of 67. The fact that the horse legend has survived for over 200 years is testament to the wily persistence of rumor.
During her lifetime, Catherine made many enemies throughout Europe. After her death, the horse myth probably emerged from the French upper class as a way to mar her legend. "She was a woman in power with a promiscuous sex life," says Michael Farquhar, author of A Treasury of Royal Scandals. "Her contemporaries were never comfortable with that."
From France, the myth may have traveled into the American press, which was famous for printing scandals at the time. "The press of our Founding Fathers makes the National Enquirer look tame," says Farquhar.
Many rumors survive on shock value combined with a nugget of truth. Catherine the Great did not look for fulfillment in the royal stables, but she did handpick lovers from the royal cavalry. Hitler was not impotent, though he had only one testicle. Caligula did not eat his sister's fetus, though he committed incest with at least one of his sisters, possibly all three.