Wednesday, December 31, 2014 at 11:15PM
\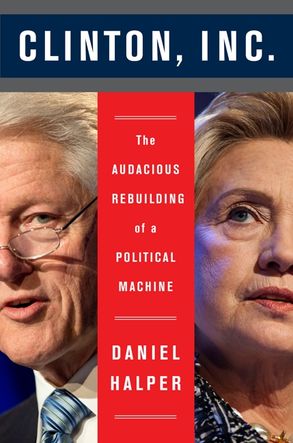 This week's trivia question is from the new book "Clinton Inc--The Audacious Rebuilding of a Political Machines" by Daniel Harper. Truth be told, it's one of those quick tawdry books that you can read in a day and might--just might--feel guilty for having read it. For example, Halper spends quite a bit of space being critical of Chelsea Clinton.
However, there's one quote too delicious to pass up. Hey, someone has to wade through this trash to come up with this juicy material for you.
In expressing doubt that BIll Clinton could forget having sexual relations with that woman, Miss Lewinsky, who said (page 110 of the book)?
"A man might forget where he parks his car or where he lives, but he never forgets oral sex, no matter how bad it is."
Now I have to come up with some intriguing multiple choice options,
How about?
James Carville
Joan Rivers
Rush Limbaugh
Barbara Bush
Craig Ferguson
Bill Maher...or
Jimmie Kimmel
By way of an answer, let me just say that I had considered making all of the options Bushes. Most likely, then you would have picked out Barbara. According to the book, even as Geroge H.W. Bush became charmed by Clinton, Barbara was less impressed.
Here's a typically gossipy passage from the book.
"I was surprised by the fact that I liked him, truthfully," Barbara Bush added. "And I do like him a lot."
Privately, others have heard a different view. "I expect she didn't fall for him for one second," a Bush family observer says. According to sources, a former Clinton aide and a person with high-level connections to the Bush family, Barbara Bush not only dislikes Bill Clinton, she despises him. "What's Clinton call Barbara Bush?" a source asks. "His second mother? It's so crazy. The funny thing is she hates him."
------------------
I'm not recommending the book, but how could one not appreciate the quote?.