Wednesday, July 16, 2014 at 01:43PM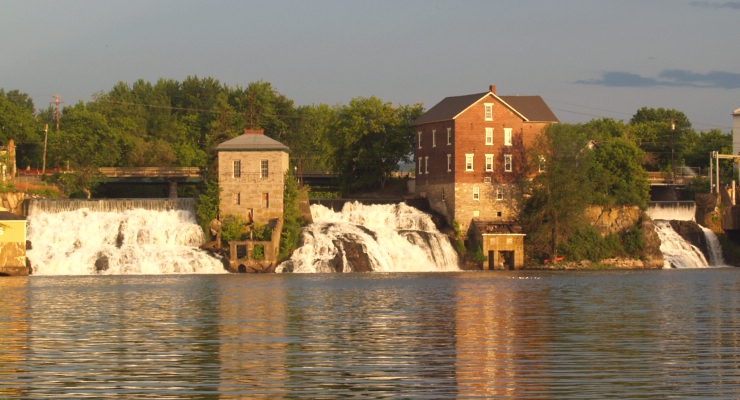 These are the scenic falls at Vergennes, Vermont, the state's oldest and smallest city (pop. 2600). It's 7.7 miles down Otter Creek to Lake Champlain, near the ritzy Basin Harbor Club (I mowed lawns there one summer in high school), but today my brother and I are putting in to explore above the falls, up the creek...with a paddle of course. One never knows.
Boats from all over take advantage of Vergennes hospitality by journeying up the creek from the lake and spending the night free of charge (two nights in a row maximum or 96 hours in a calendar year; I wonder who's policing that rule), electric hook-ups included (although donations are accepted, $10-20 a night recommended); six were there last night from points ranging from Quebec to Rhode Island. I read on line that most creeks flow into rivers, but here in Vermont, rivers flow into the mighty Otter Creek which also holds the distinction of flowing northward.
Speaking of police, I don't know where Vergennes gets all its money (from homeowners I presume), but it must have the largest police force per capita in the world. The other night, a police officer visited a woman wondering why she failed to renew her dog license. Duh! Because she no longer has the dog! Don't police here have anything better to do than track down people who used to have dogs?
You can't make this stuff up--the smaller the city, the more the police harass people.
No otters, no beaver, no ducks, no geese, not even many birds, not a single other human being, only one unmoving frog on a log in the middle of the creek and lots of cows along the bank. Best idea--put in below the falls, not above.